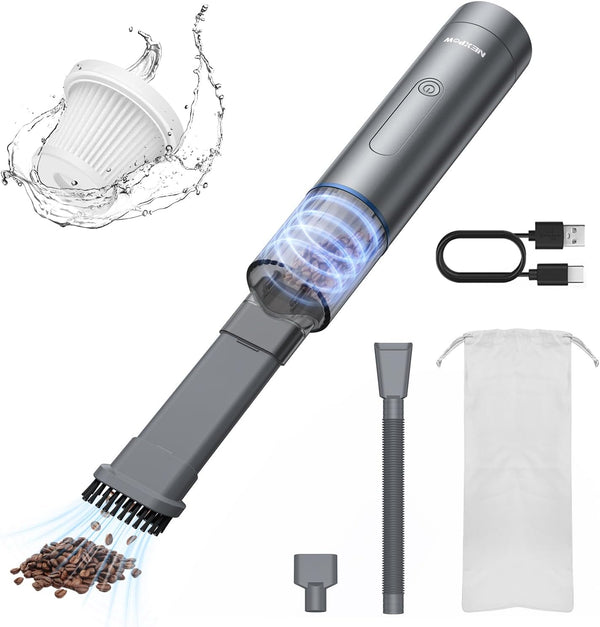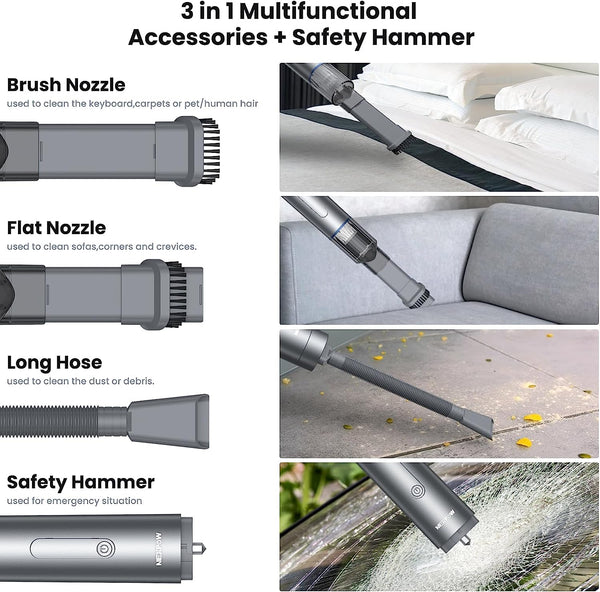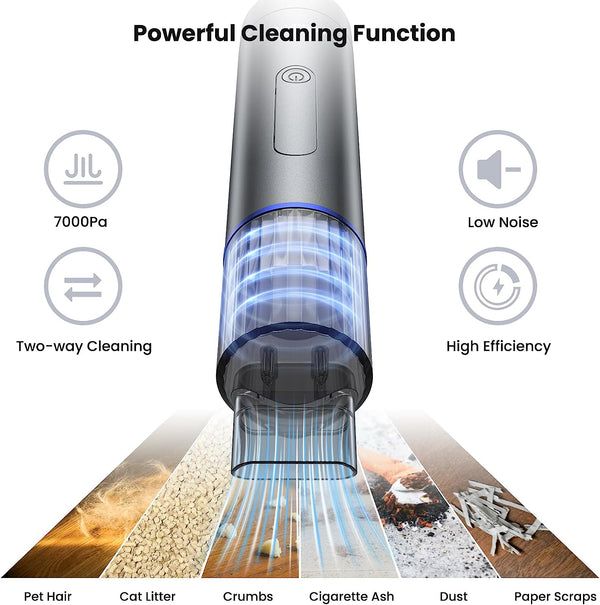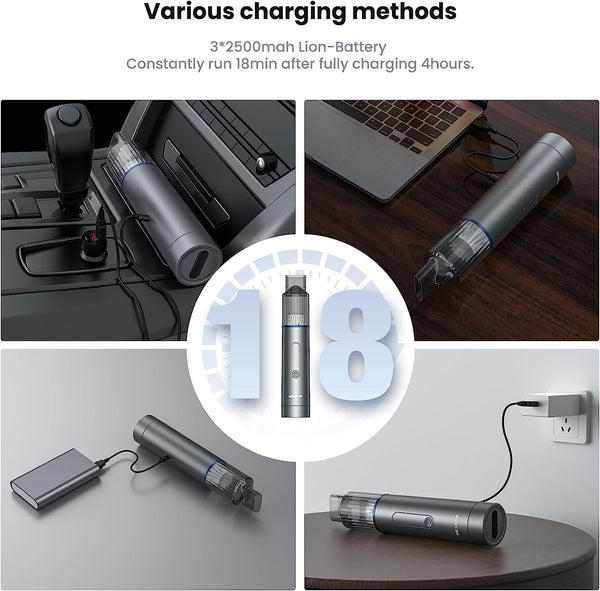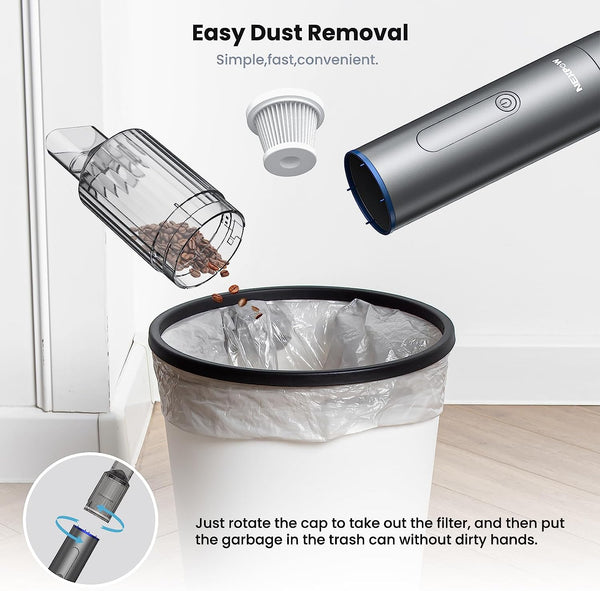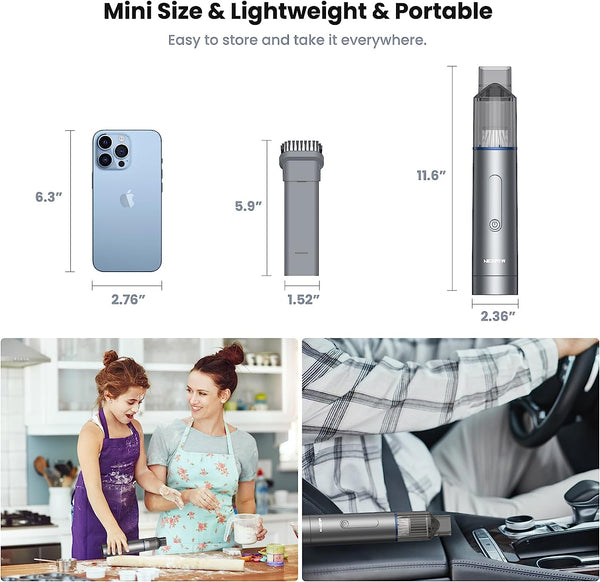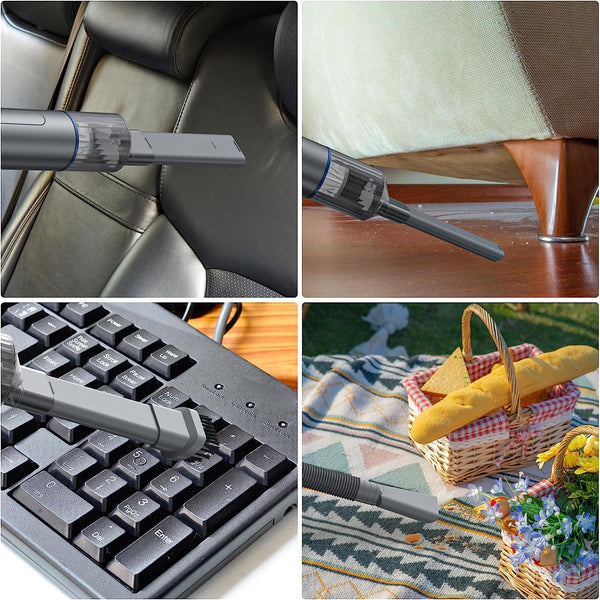 Professional Tools for Deep Cleaning: the cordless vacuum is equipped with 4 attachments to meet various cleaning demands. The flat nozzle is perfect for reaching narrow gaps and corners. The brush nozzle is designed to tackle hair on carpets, sofas, or dust on keyboards. The extended hose nozzle provides flexibility to reach desired spots. Additionally, the handheld vacuum is equipped with a safety hammer for unexpected emergencies.

Strong Motor: the car vacuum cleaner provides powerful capabilities of 7000PA, efficiently removing pet hair, cat litter, paper debris, crumbs, and other small particles from various surfaces. Whether it's carpets, upholstery, or hard floors, this portable car vacuum can effectively tackle daily cleaning tasks and help maintain a clean environment.

Quick Charge & Long Runtime: this car vacuum cleaner high power is equipped with a 7500mAh battery, providing a continuous runtime of 18 minutes after being fully charged for 4 hours. This allows you to clean various areas without interruption. Furthermore, the car vacuum portable comes with a charging cable, allowing convenient charging in the car or at home, ensuring you always have sufficient power to accomplish your cleaning tasks.

Easy Trash Disposal: the hand vacuum is designed for easy disposal of dust. Simply twist the transparent cover and remove the filter to empty the trash, ensuring your hands stay clean. The transparent design provides a clear view of the vacuuming process, reminding you to clean it promptly. With a large capacity of 100 milliliters, this handheld vacuum cordless can fully meet your daily garbage storage needs.

Mini Size and Portability: the small vacuum cleaner features a lightweight design, weighing only 1.58 pounds and being approximately the size of a water cup. It is comfortable to hold in your hand and comes with a storage bag for added convenience. Whether you are driving, cycling, or backpacking for travel, it is incredibly convenient to carry along.
Cleans large SUV with ease.
Gets anything under the seats and everything in between. Looks great and battery last a long time. Super durably and cleans easily.
Uses Dewalt 20v batteries / easy to assemble
Received the vacuum today , these are things I like and dislike.
I liked the size and feel of the vacuum , all the accessories that came with it especially the extra hepa filter was a real bonus and it was easy to disassemble , empty, and clean I'm not sure how long the battery will last but if you have 20v dewalt batteries like I do then this was a simple choice to make, I mainly use this to clean up around the litter box so it is perfect for that.
My only dislike is the exhaust discharge , it blows back and up at you so I don't care for that if the ports exhausted down toward the floor I would have given it 5 stars but it don't so I didn't.
Time will tell how long it holds up but as for now I am happy with the purchase.
Proper arrangement and accessories
Come with various types of accessories, cord length is ideal. Good price
Good product!
 Powerful vacuum cleaner for it size. Use it in daily basis. Highly recommend!👍 Don't open it inside of the car cause the filter can get off easily and you will make a mess)
Amazing
 When it's raining I don't want to have to plug anything into the garage outlet, cordless ones charge lasts only 20 minutes. Then I found this. This vacuum is really useful and cleaned my car to perfection.