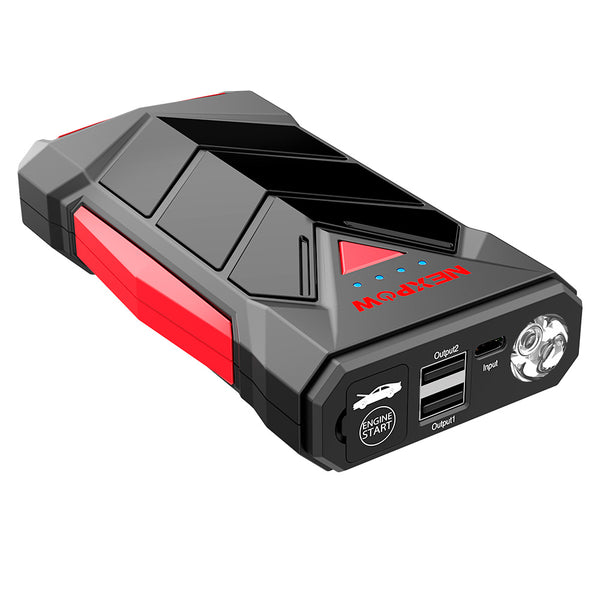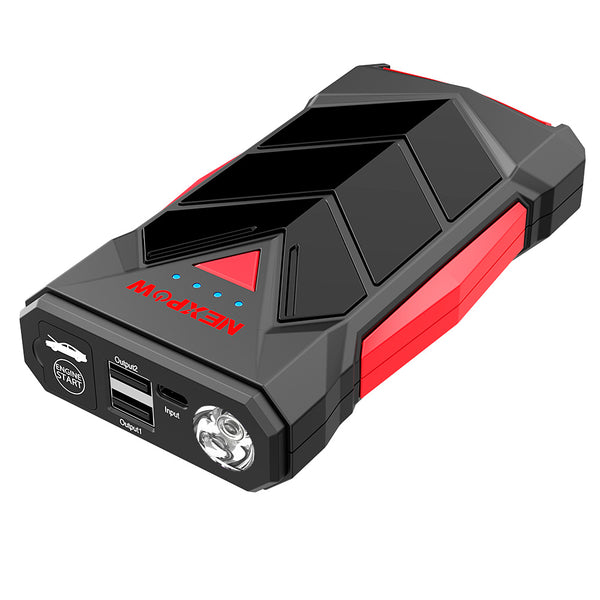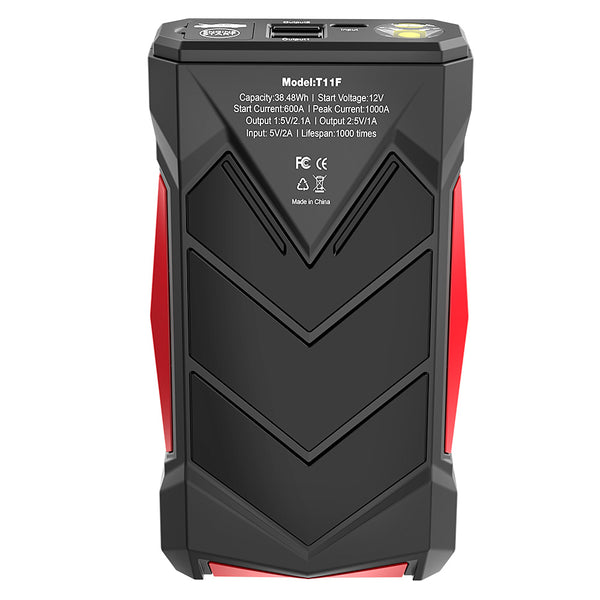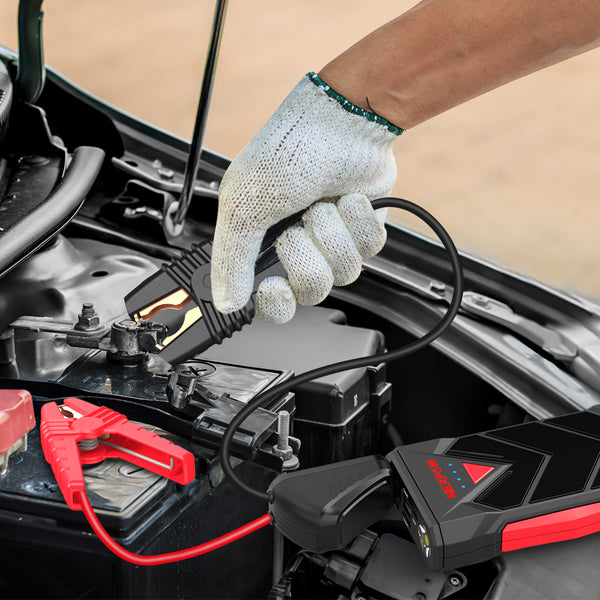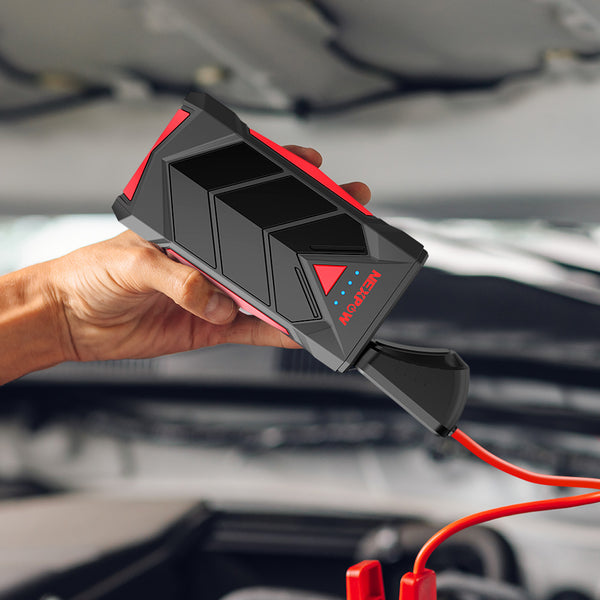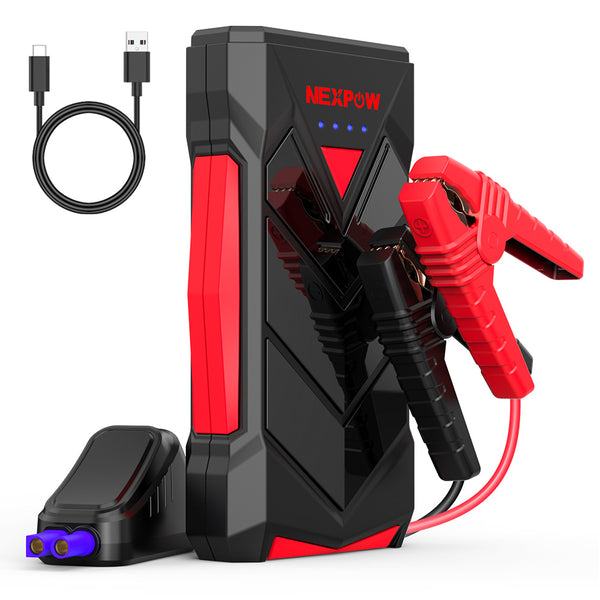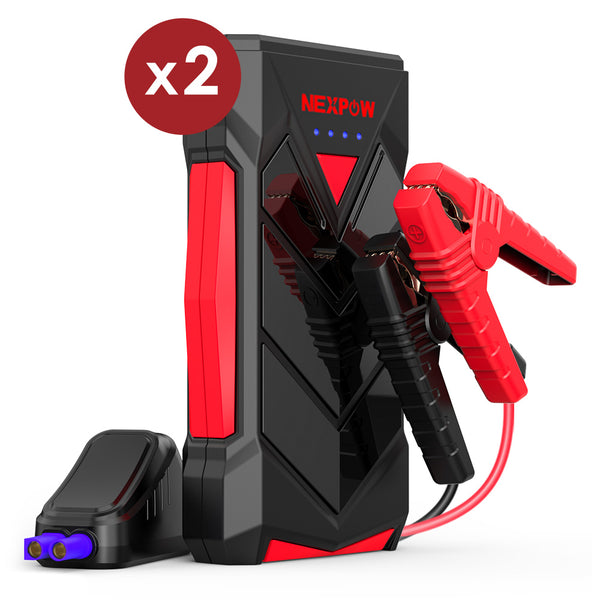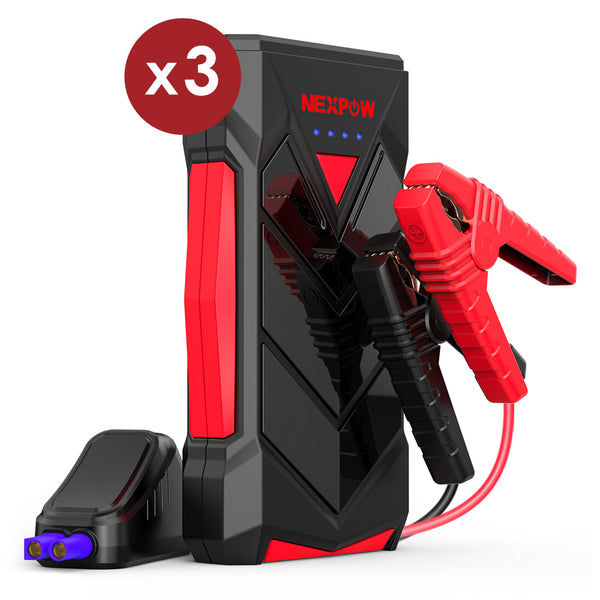 Upgrade QDSP Technology: Yet powerful, 1000A portable car battery jump starter pack can start all 7L gasoline engines and 5.5L diesel, including cars, trucks, SUVs, motorcycles, ATVs, and boats.
Quick-charge USB Ports: The quick-charge USB port charges your devices faster and is compatible with almost all USB charging devices – including cell phones, tablets, Kindles, or digital cameras. Charging is fast and efficient – helping you save time.

Advanced Protection Technology: The intelligent jumper clamp features multiple advanced safety technologies, including spark-proof protection, overload protection, over-voltage protection, over-charge protection, and high-temperature protection – ensuring it's safe for anyone to use.

LED Flashlight: The jump starter LED work light has three modes: Flash Light, Strobe Light, and SOS Light. This multi-purpose flashlight is perfect for camping, outdoors, indoors, emergencies, travel, etc.

Waterproof EVA bag, easy to store and carry
Free 3-5 Business Days Shipping
Small and efficient
This is compact and lightweight. It fits nicely in one of our recovery gear boxes in our truck. It's nice to have the peace of mind for safety.
Works
Came out of the box charged. Easy to use .
Power Pack with jumper cables
Nice compact assembly with charging cables and jumper cables
Floss
For its money it's well worth it.Saves calling garages or your breakdown services out, and you having to wait.. Since I've had mine I've started several family cars of various sizes with it all on one charge of its own. Most were completely flat and it got them all back on the road instantly. Love it for what it's capable of.
Einfach und effizient
Der Einkauf war vorsorglich der bevorstehenden Wintersaison falls eine Batterie zusammenbricht. Variante mit der stärksten Ausführung bestellt. Sendung kam innerhalb versprochener Zeit. Vorgeladen mit rund 70 Prozent, sehr gute Erklärung / kleines Handbuch. Gerät sehr handlich und für versprochene Leistung kompakt und handlich. Lädt auch Handy u.a. Geräte mit beigestellem Zubehör.
Unverhofft schon am 12.11.23 bei einem Motor mit 4,2 ltr Diesel-Hubraum im Einsatz. Hat hervorragend funktioniert. Ist jetzt fixer Ausrüstungsteil für jeden PKW in unserem Betrieb.
SEHR EMPFEHLENSWERTES ZUBEHÖR für ALLE die viel mit Automobil unterwegs sind.
So wie die Apotheke , Pannendreieck und Abschleppseil, speziell in höheren bergigen Lagen wo es "über Nacht" ein anderes Wetter haben kann und gar manche Startbatterie zusammenbricht........