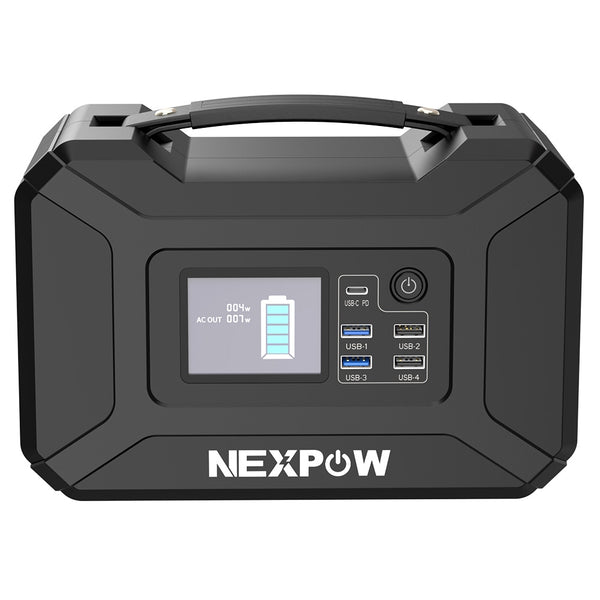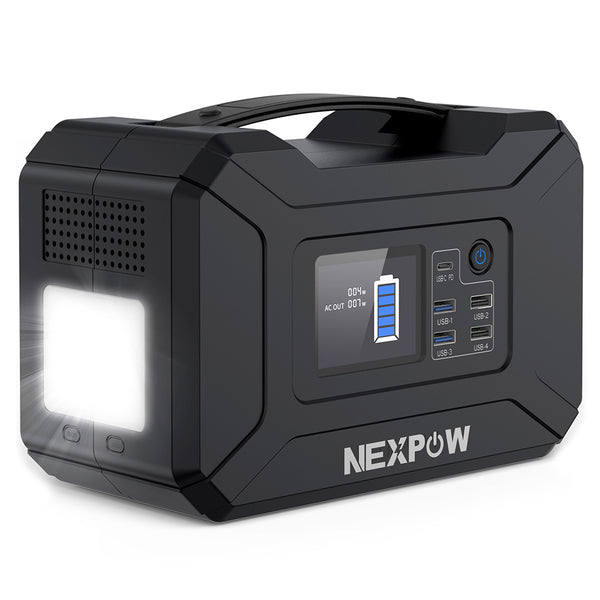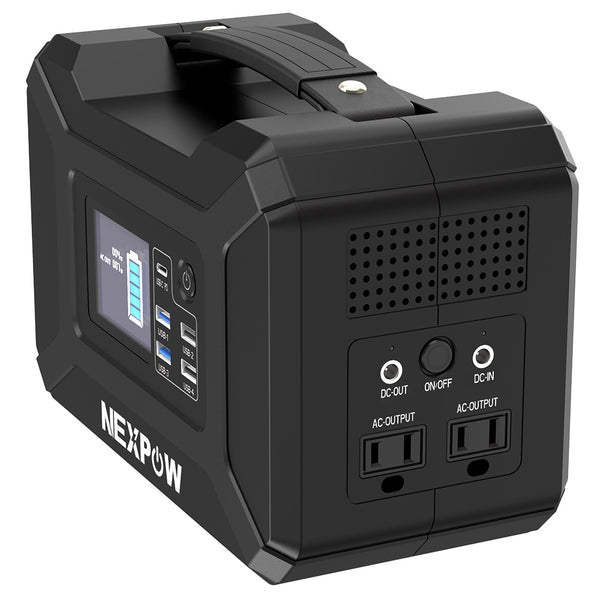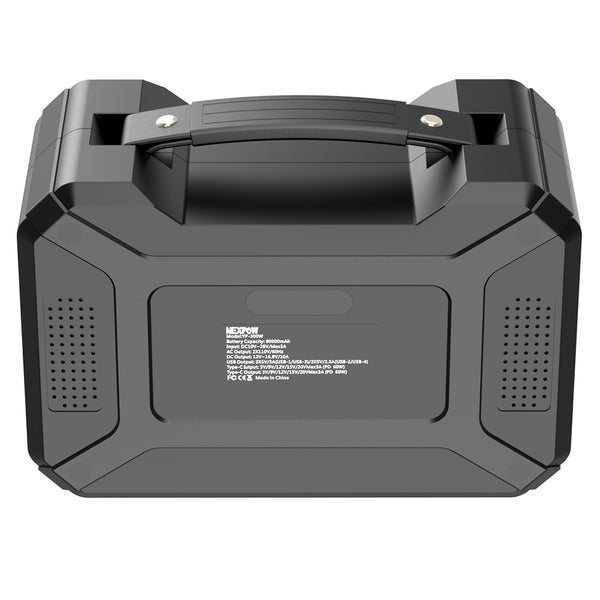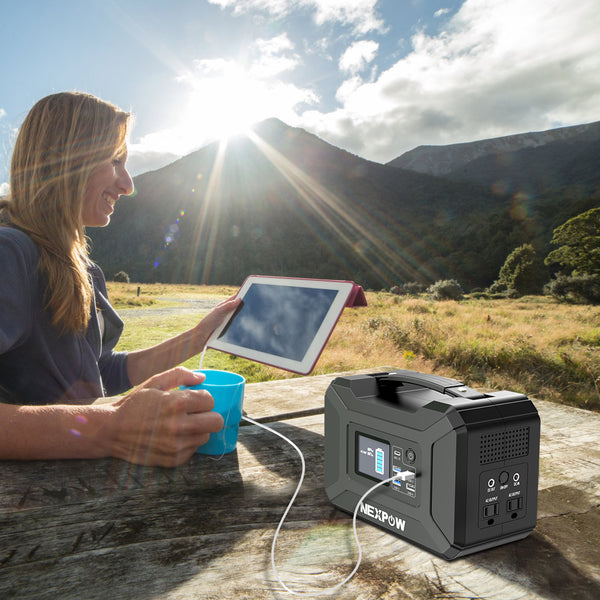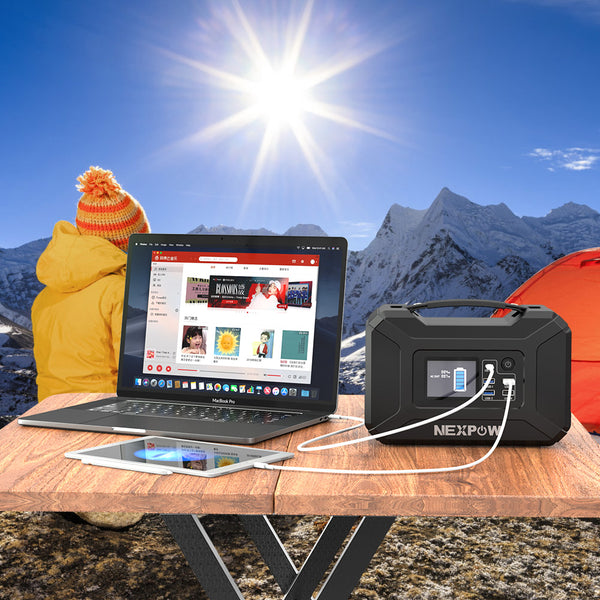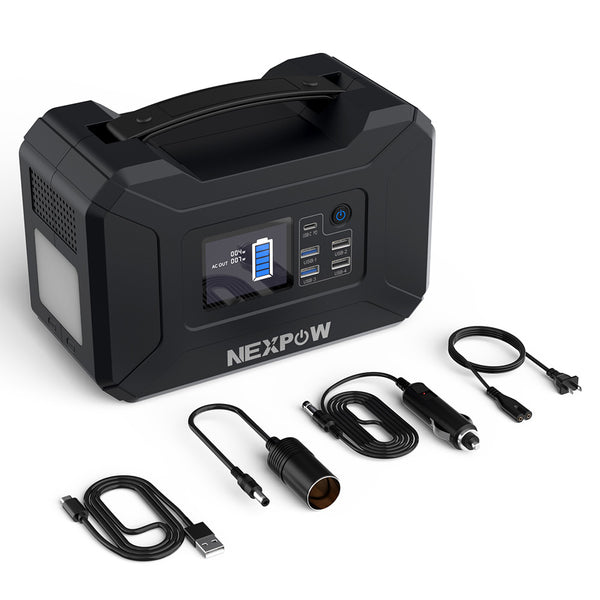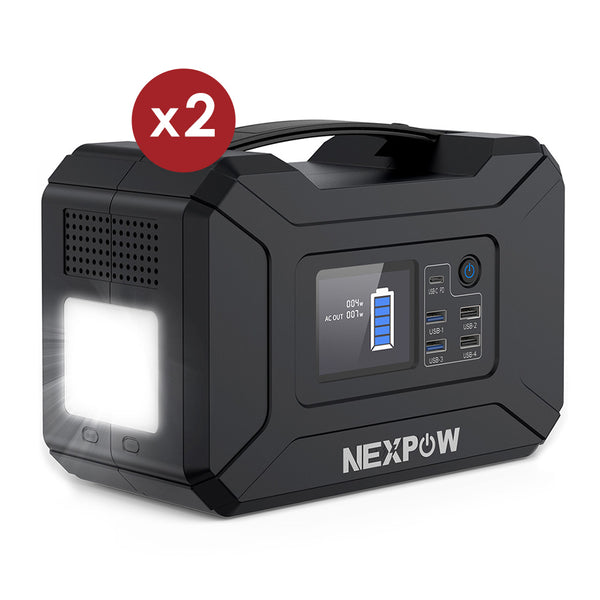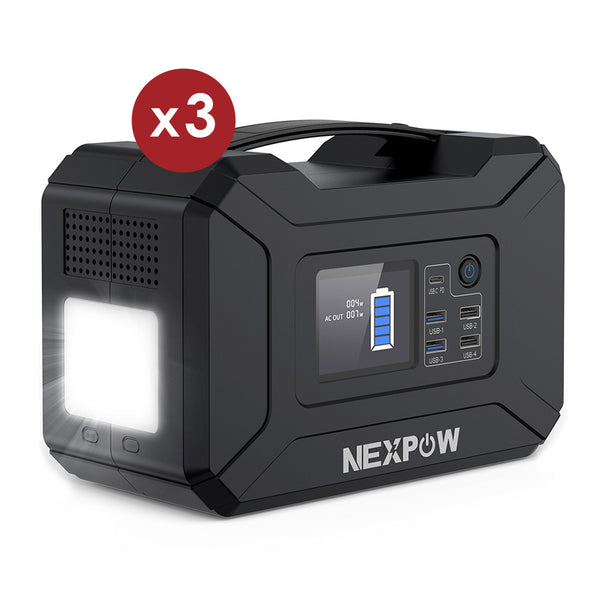 High Capacity: This emergency power bank has 296Wh, 300W continuous power, and 500W peak power, It also has an 80000mAh battery capacity, and pure sine wave. its compact design is powerful enough to meet different kinds of demands and can be used for home, travel, camping, etc

Multiple Charging Outputs: 2 * 110V AC output, 1 * DC output, 2 * QC 3.0 quick charge USB ports and 2 * USB ports, 1 * USB-C PD 3.0 output, It can be quickly charged for your device such as a smartphone, tablet, laptop, camera, flashlight, drones, fans, in-car appliances, and CPAP machine, etc.

Unique Design: 1)This battery pack with ac outlet has independent ACDC\USB, which can provide you a simple operation when charging different devices; 2) The LCD display design can show you the devices' status in different kinds of situations, such as remaining power/charging status/discharging status/AC output status/DC output status;

3 charging modes: Nexpow portable power stations are equipped with a lithium battery pack, which can be charged by the 15-24 volt solar panel; The PD 3.0 has 60W maximum speed; It can be charged by AC wall adapter and car charger, it doesn't have memory effect, not need to worry about the battery's capacity will be reduced.
Enjoy Outdoor Activities: This power source is very lightweight(Only 7.05lb), and it has a soft handle, you can put it in your backpack or car easily, so just take it to a place where you need power.

Warranty: These power stations ​protect your devices from overcurrent, over-voltage, and over-temperature, making sure you and your equipment are safe.❤N E X P O W provides a 12 months warranty.
Free 3-5 Business Days Shipping
Very happy with it.
Bought it for an airbrush system for body art painting. I have used it for two outdoor events. It worked great. After 5hours it only used less than two bars. And it is really light weight. A great purchase for sure!
Perfect
This is well made and performs as it should.
The product itself is probably 4 stars worthy, but for its price, I will give it a 5
I have been using this "NEXPOW Portable Power Station, 296Wh 80000mAh Solar Generator 110V/300W (Peak 500W) 2 AC Outlet/4 USB Ports/2 DC Ports/QC 3.0 PD Ports for iPhone 12 Backup Battery Power Supply for CPAP Outdoor Camp (YP-300W)" for 1 year+ now.
Originally I got 3 different ~300W "lowered cost" portable power stations to play with and evaluate, this particular NEXPOW, one from iClever (https://www.amazon.com/dp/B08C2H3GC1), and then another one from BOSALY (https://www.amazon.com/dp/B082Q2B4ZJ). Out of all 3, the only one that I am still actively using (after more than a year now), is this NEXPOW one. Some connectors on the BOSPLAY one had failed, and the display on the iClever had failed, while this NEXPOW one is still going strong.
I use it in my car to power my ARB fridge when my car is off. I wired this inline with my vehicle's power so that when the car is ON, it will charge this unit, and while my car is off, and if I am running my fridge, this unit will power it (via the DV out). And occasionally, I will also plug in USB devices for charging and sometime even a laptop charger from the 120V inverter out. The 2x "blue" USB QC 3.0 ports indeed charges my devices very fast while the 1x USB-C PD port can totally power and charges a laptop even without a dedicated charger. The display/UI is useful and effective, it gets the job done as well as providing good information so that I can monitor & project my power usage and adjust accordingly.
So far, this had been working out very well for me, and I am still very happy with this unit. Overall, the functionality of the unit, and its instruction, the support from the company etc... this is probably a solid 4 or 4.5, and considering the price of $189, I am bumping it to a 5. For a 300W class unit, this is cheaper than only a few others that I considered better than it. If money is no object, I probably will get a Jackery 293Wh unit (https://www.amazon.com/dp/B082TMBYR6) but that is $100+ more (50% more).
I also tried to charge this unit with a 100W solar panel, it worked fine and it fully charged in a few hours without issue with full Southern California afternoon sun.
Thank you for reading this review, I hoped that this review & the pictures are helpful to you in support of your purchase decision.
Best portable power station
Best portable power station - bar none! Has all the features anyone could want, light, 110 volt outlets, LCD display, manyUSB connections, and DC 12V outlet port. Used last night after power outage due to rain storm. Everything worked beautifully as advertised. Glad I had this available during this emergency.
Nice little battery backup
This doesn't have all the bells and whistles as say a Jackery or Bluetti but neither does it cost the same. Does it do what you would want a small portable power source to do? Yes! I don't really care if it does not have bluetooth connectivity or a display that tells me to a gnats hiney what my power consumption and power remaining are. It does tell in general terms what power consumption and remaining power through the onboard display with a simple battery symbol and how many watts are being consumed by either the AC or DC outlets. It comes with a plug in charger or can be charged from the DC outlet in your car or RV or solar. It takes several hours to charge fully and when charged will run for days if you keep the power demands within its stated limitations. I took this on a extended motorcycle camping trip and never had to recharge the unit after using it daily to recharge phone, run lights and power a radio. We also recently lost power for two days at the house and this came in very handy for charging phones, computer and plugging in a TV and my cell router for internet service. Price and portability are its strengths and I personally like the low tech functionality of the interface and display. Who really wants to deal with the minutiae when camping? Just plug in your devices and forget about it.