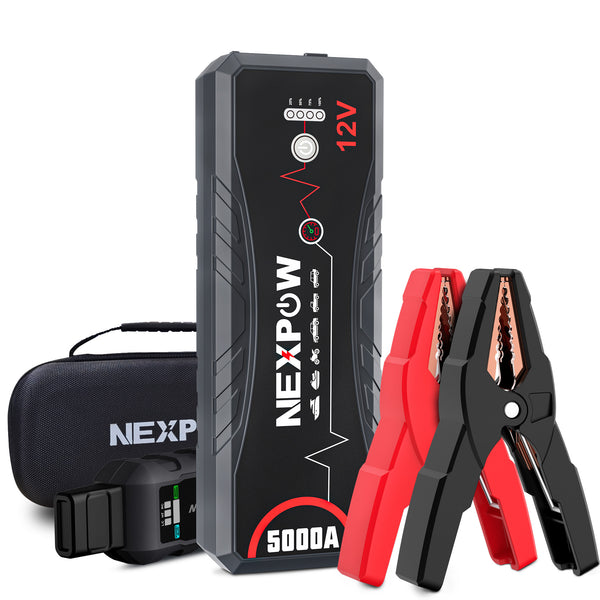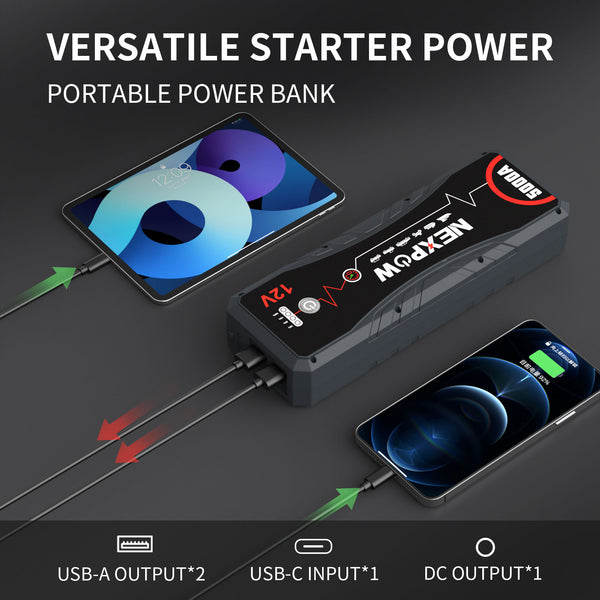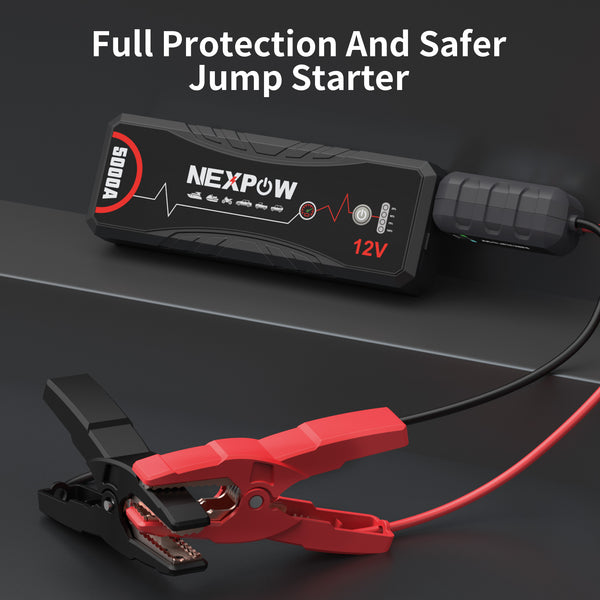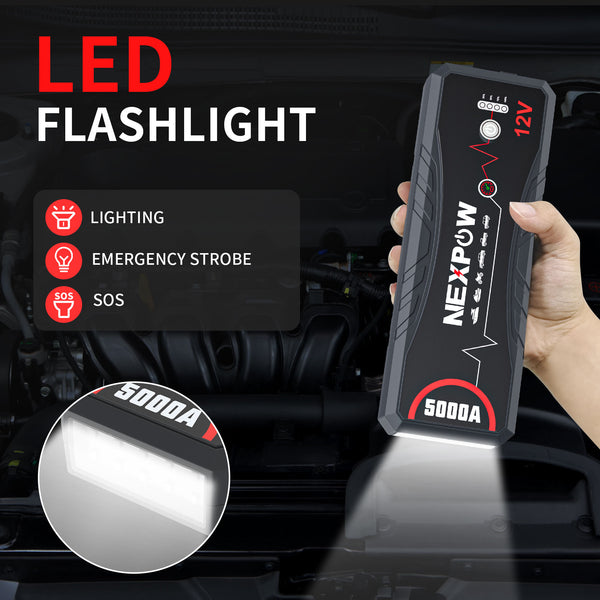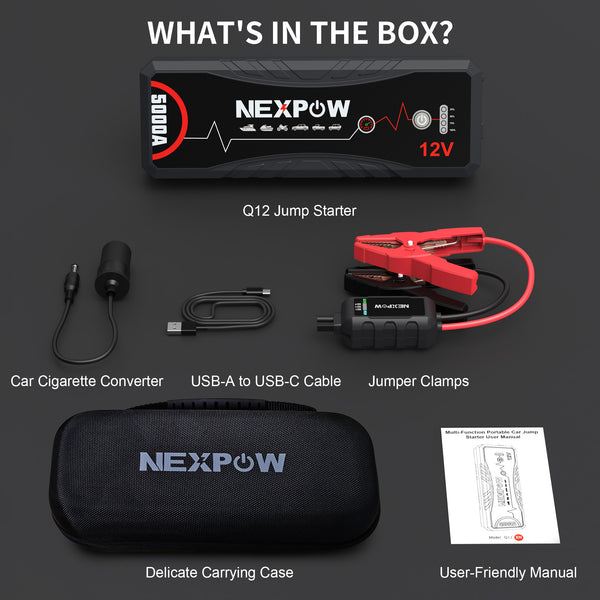 NEXPOW Car Jump Starter,Car Battery Jump Starter Pack 5000A Peak Q12 for All Gas and Up to10.0L Diesel Engine 12V Auto Battery Booster,Jumper Cables,Portable Lithium Jump Box with LED Light/USB QC3.0
【High Capacity Car Jump Starter】-The NEXPOW Q12 car jump starter provides up to 5000A peak current and a high capacity of 24000mAh. The powerful car battery jump starter can start all gasoline engines and diesel engines up to 12.0L in just a few minutes. It is compatible with 12V vehicles, motorcycles, pickup trucks, RVs, tractors, trucks, cargo vans, ATVs, snowmobiles, yachts, and more.

【Powerful Upgraded Battery Starter】: The fully upgraded NEXPOW Q12 battery starter is equipped with a high-performance force start function that helps you start depleted car batteries. The battery jump starter works with upgraded jump clamps, providing 8 safety protections. Whether in extremely cold or hot desert climates, you can safely start all 12V vehicles.

【Practical Portable Charger】: The 5000A Portable Car Battery Starter features 2 USB outputs, including one quick-charging port (5V/3A, 9V/2A, 12V/1.5A), a Type-C input (5V/3A, 9V/2A, 12V/1.5A), and a DC output (12V/10A). It can rapidly charge various portable devices such as smartphones, tablets, cameras, and more. You can use it anytime, anywhere.

【Convenient and Advanced】This jump starter is equipped with a rugged casing design, featuring dust and shock resistance, ensuring the jump starter remains in perfect condition in any environment. It also includes a built-in flashlight with three lighting modes: Lighting, SOS, and Strobe, providing the necessary light source for emergencies or nighttime camping.

【In The Box】- The package includes the NEXPOW Q12 Car Battery Jump Starter x1, Smart Jump Cable x1, USB Type-C Charging Cable x1, Delicate Carrying Case x1, Cigarette Lighter Converter x1, and User Manual x1. Additionally, it comes with 24 months of excellent after-sales service. If you have any questions, please contact us, and we will respond within 24 hours.
A MUST HAVE! GET ONE!!
This is a great product, well made, compact with plenty of power. I have only used it twice but the first time paid for itself! You don't need cables or another vehicle to help, this gets it done with no problems! This is a great tool and everyone should have it in their car. Not just to jump start but to power phone, laptop, iPad and any emergency use! Get One!!!
Very portable and powerful
Nicely packaged and very portable
Gives you one good start, charges quite fast
If it works
If it works out well be well worth it. I like the potential power, assurance of not getting stuck somewhere and the size is terrific. Again I gave it a 5 for all these reasons but time will tell if it will start my diesel pickup
Awesome! Great value plus Extremely well made!
Love everything about this. Added a 45w charger when I purchased for fast charging! Used it twice, once on Chevy Silverado and once on a 6.7 liter F-350. Had zero issues turning either of them over.